Introduction
This document shows an example of what needs to be done in ServiceNow to make it integration-ready with the endpoint in your ONEiO. Note also, that the number of fields used in integrations might vary.
Currently only Incident is available out of the box. In case any other entity types are needed or you have questions related to setting up the integration, send a mail to support@oneio.cloud.
You can sign up for a free trial of ONEiO from the following link: ONEiO Free Trial
Overview
This article gives an overview of the required steps to integrate ONEiO and ServiceNow. In this guide, we cover the following steps required for bi-directional communication between ONEiO and ServiceNow.
Sending messages from ONEiO to ServiceNow

ONEiO accesses ServiceNow through the REST API
Create Integration user in ServiceNow
Add integration user to ServiceNow. This user is used to send updates and creates to ServiceNow through the Table API interface. The credentials have to match those configured to the ServiceNow adapter configuration in ONEiO.
Go to:
Organization Users New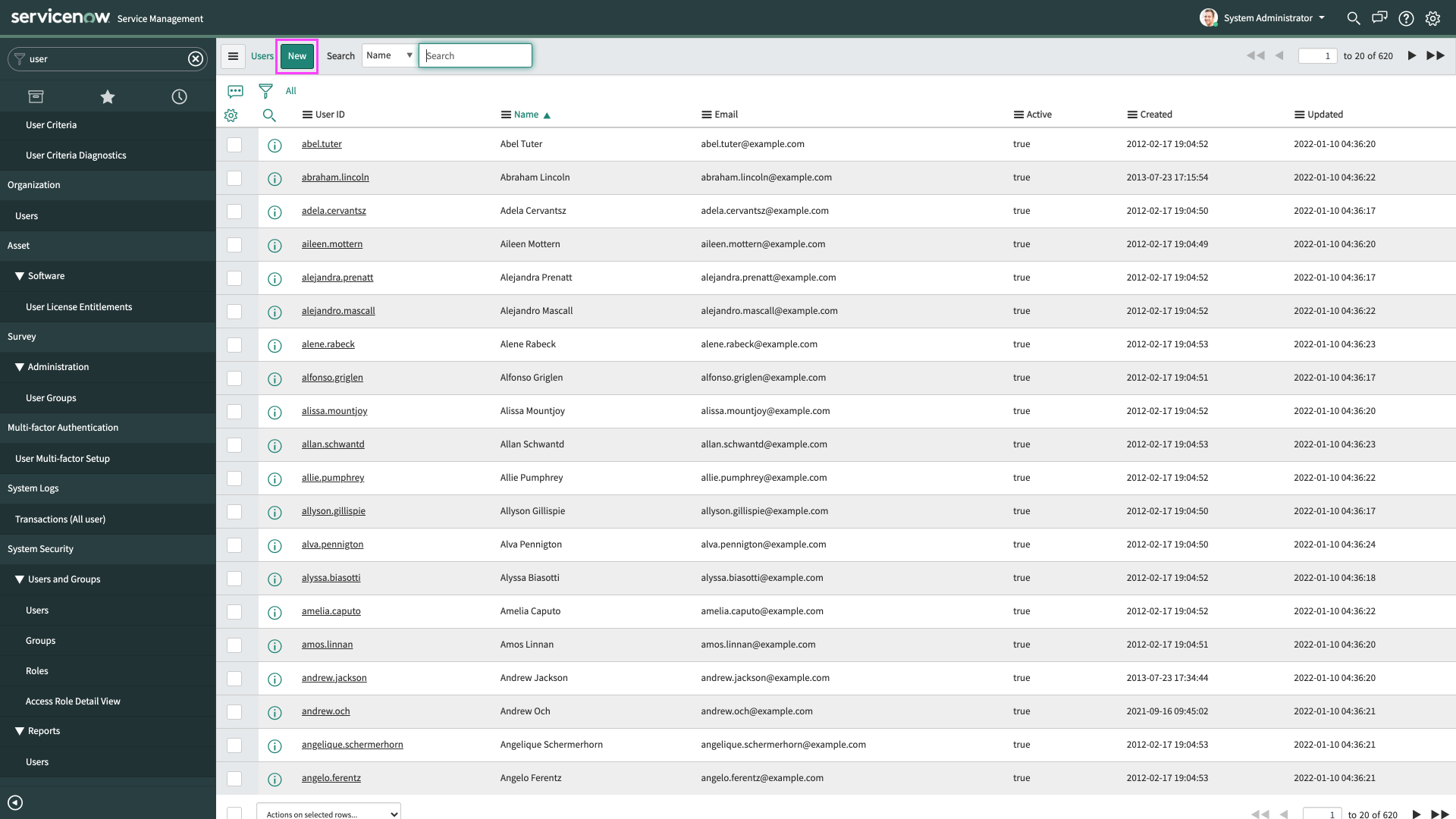 Add user
username "oneio" (you can choose a different name also, but remember to change it to used business rule conditions)
Check "web service access only"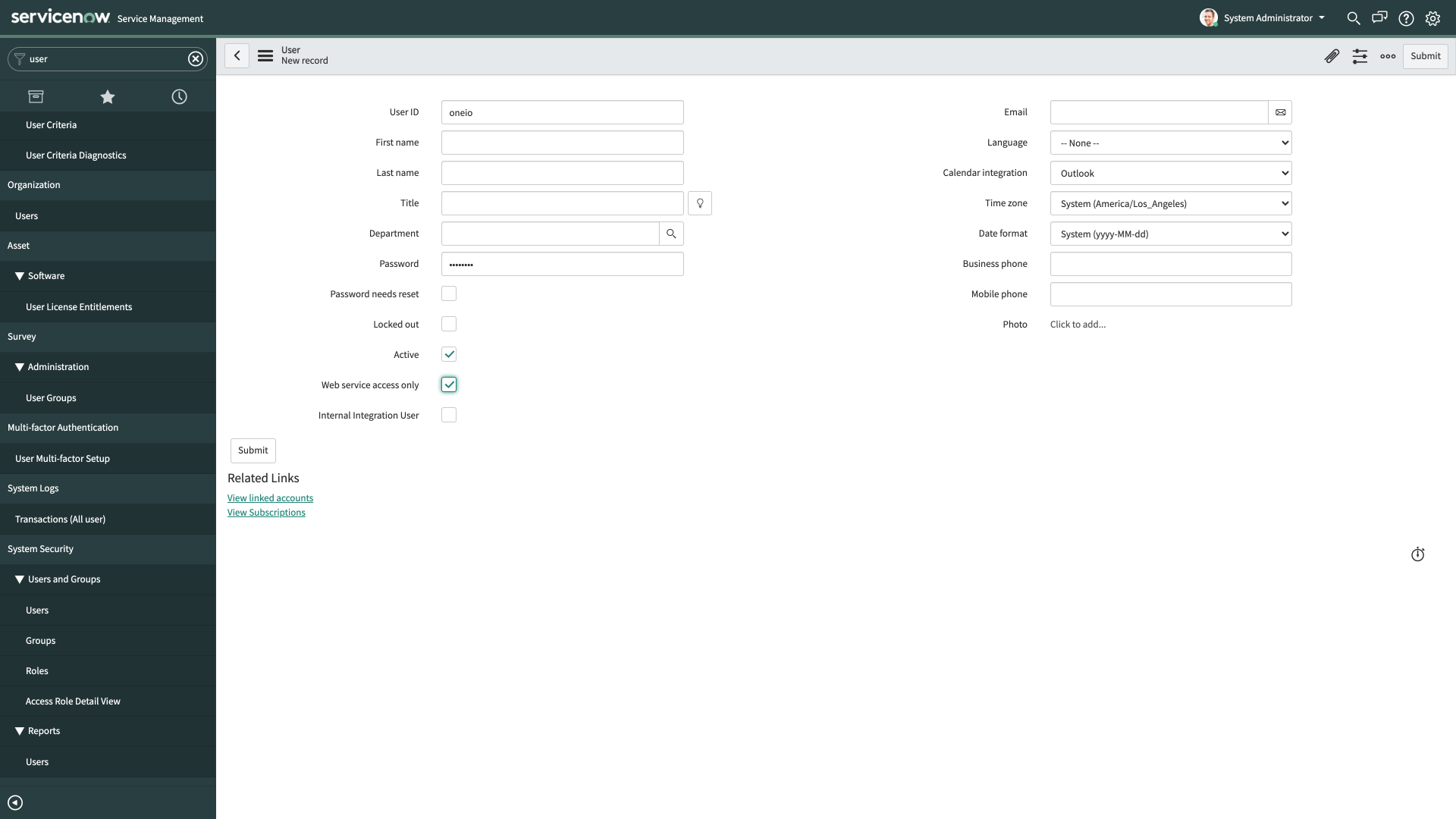 Roles Edit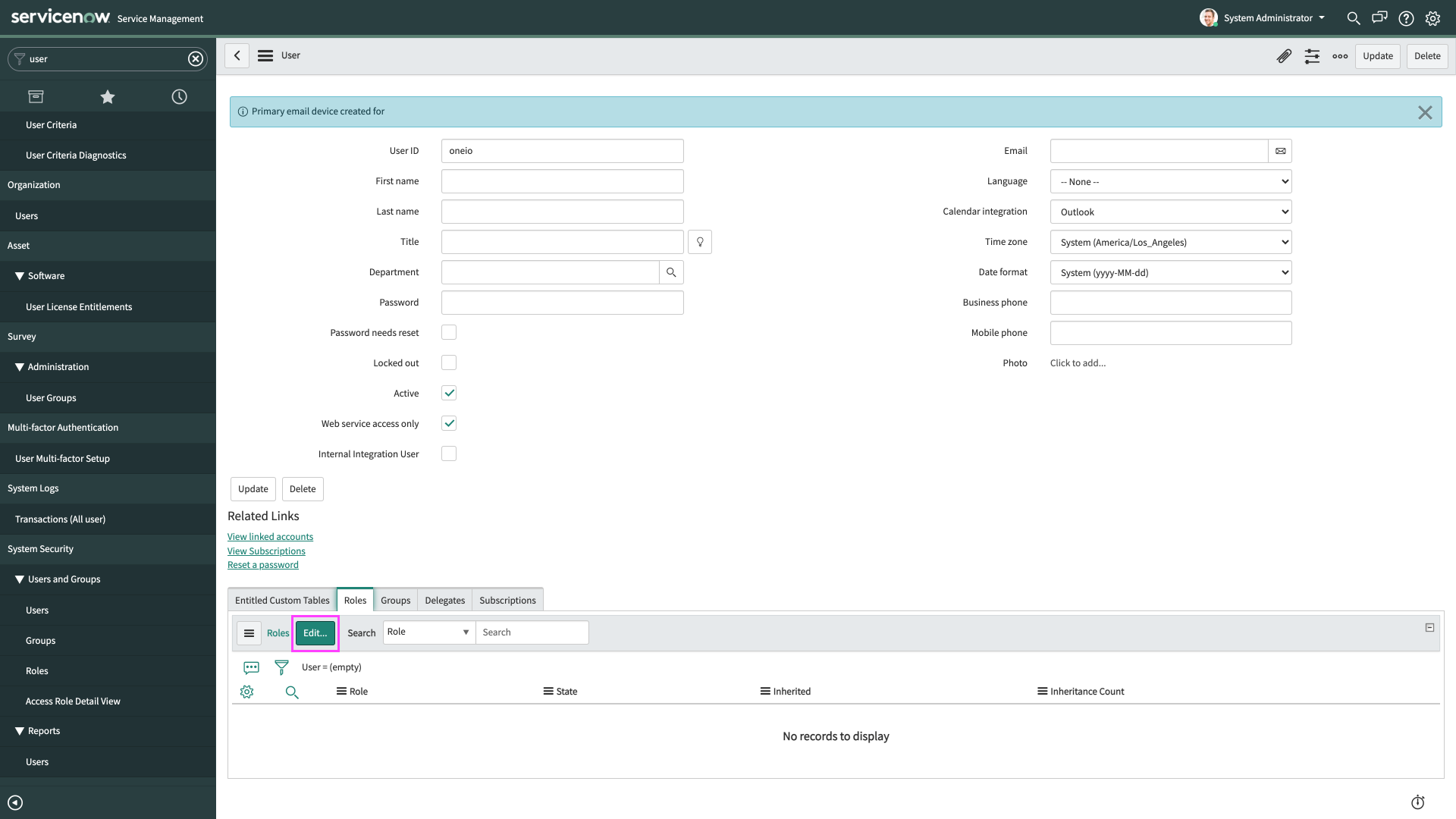 Add roles: itil
The user must also have access to the tables integrated, in this example incident and sys_attachment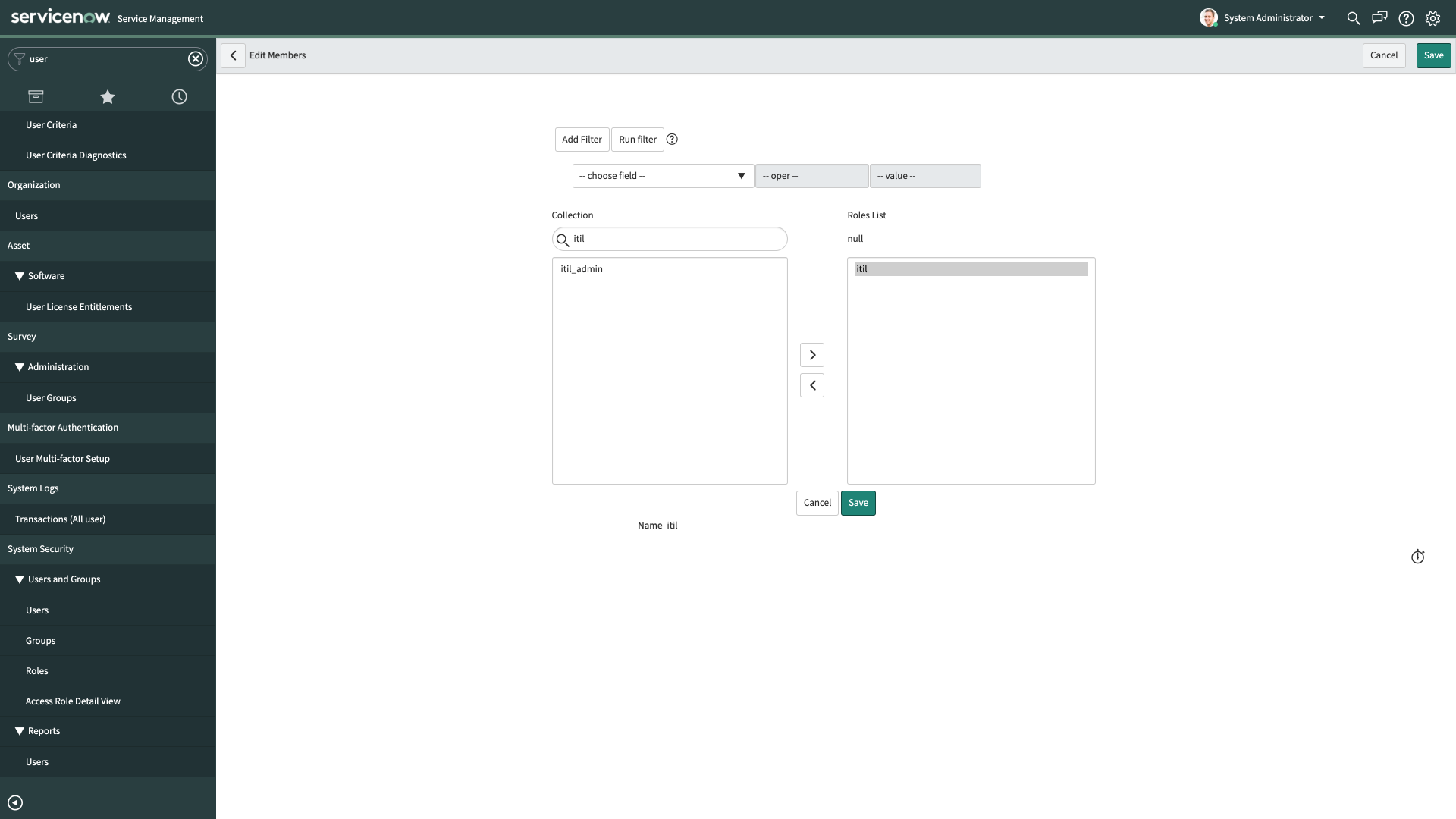 After the user is created, fill in the same information in the ONEiO UI in the ServiceNow User & Password fields.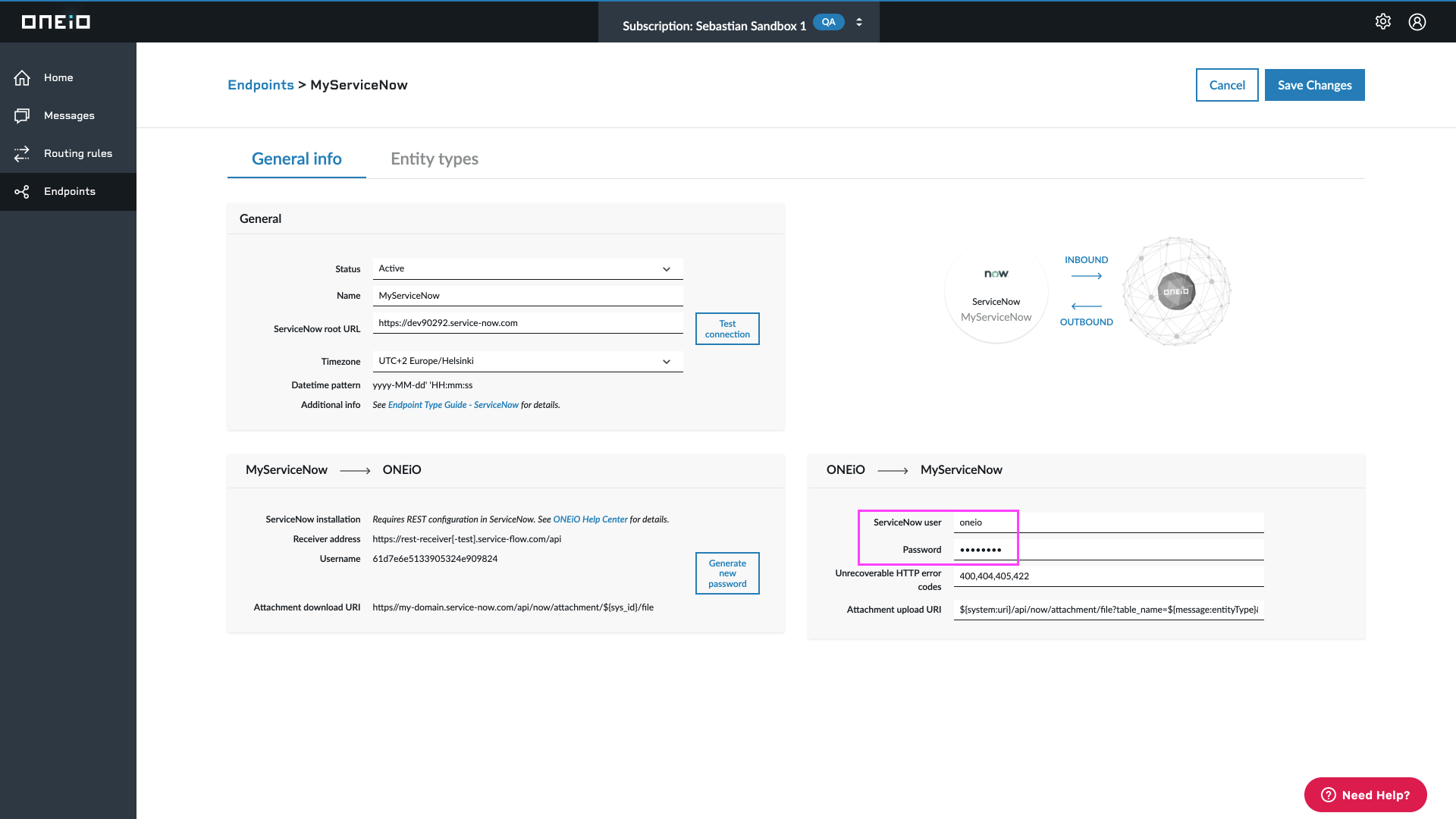 Attachment handling
Sending attachments to ServiceNow
ONEiO sends attachments to ServiceNow through ServiceNow's Attachment API. For this operation, the outbound message to ServiceNow needs to include attribute sys_id, with the target entity's sys_id as the value.
Sending messages from ServiceNow to ONEiO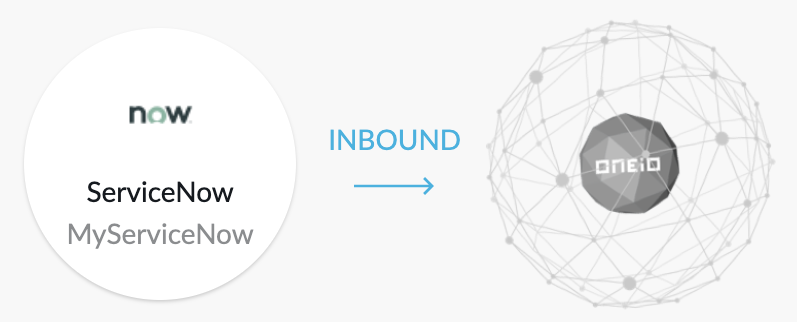 ServiceNow communicates with ONEiO through the REST message as part of the REST API. This REST message is preconfigured as part of the Dynamic Integration Set ONEiO provides.
Retrieve Update Set
ONEiO provides a preconfigured update set, that includes everything needed for ServiceNow to communicate with ONEiO. You can download the update set from the button below.
The update set contains:
1 REST message
1 Business Rule for the incident table
2 Business Rules for sending out attachments.
After committing the update set you have to add the outbound credentials to the REST message. These credentials can be retrieved from the ONEiO UI.
System Update Sets Retrieve Update Sets Import Update Set from XML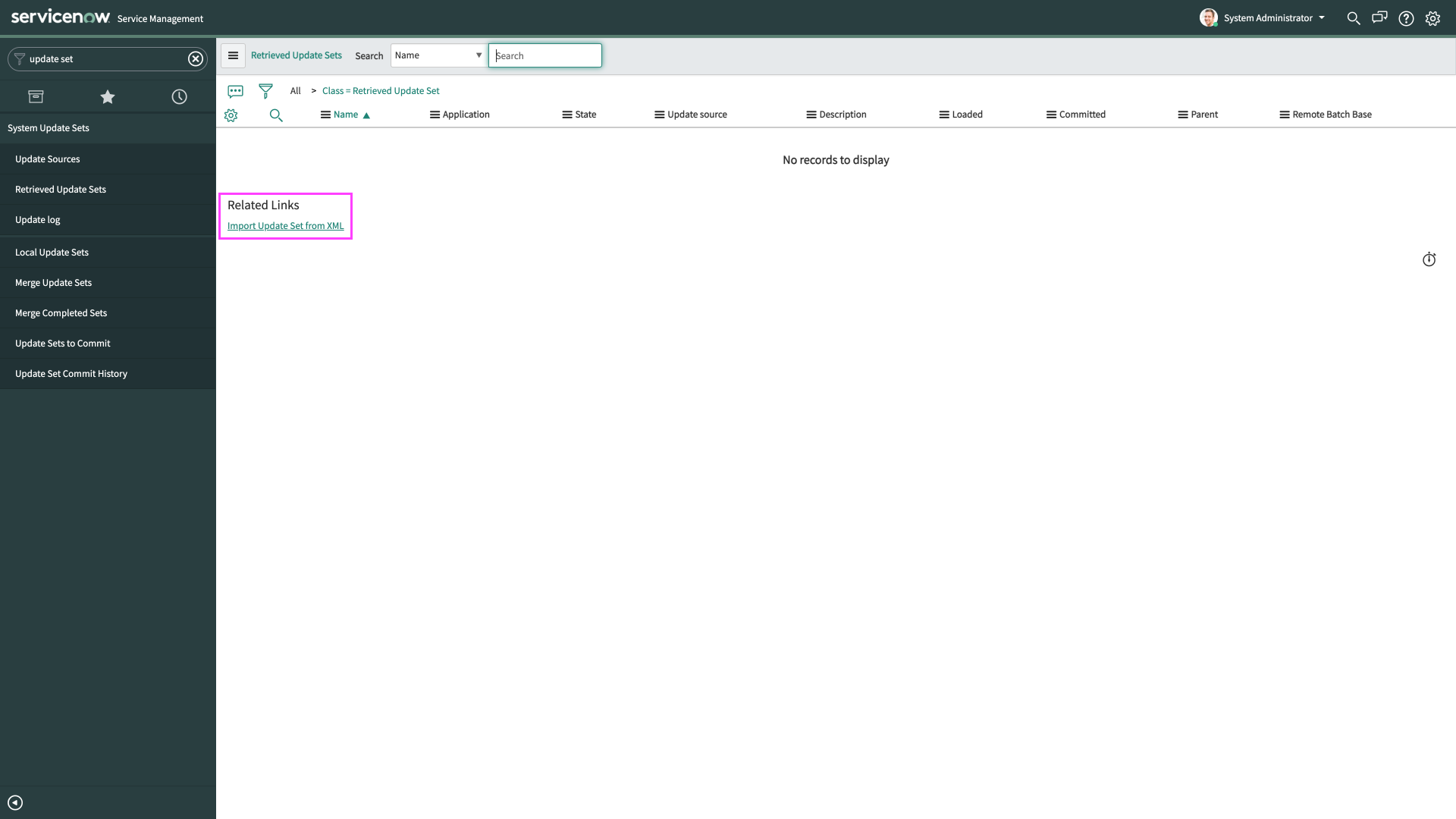 Upload the Update set retrieved from the ServiceNow Developer site earlier.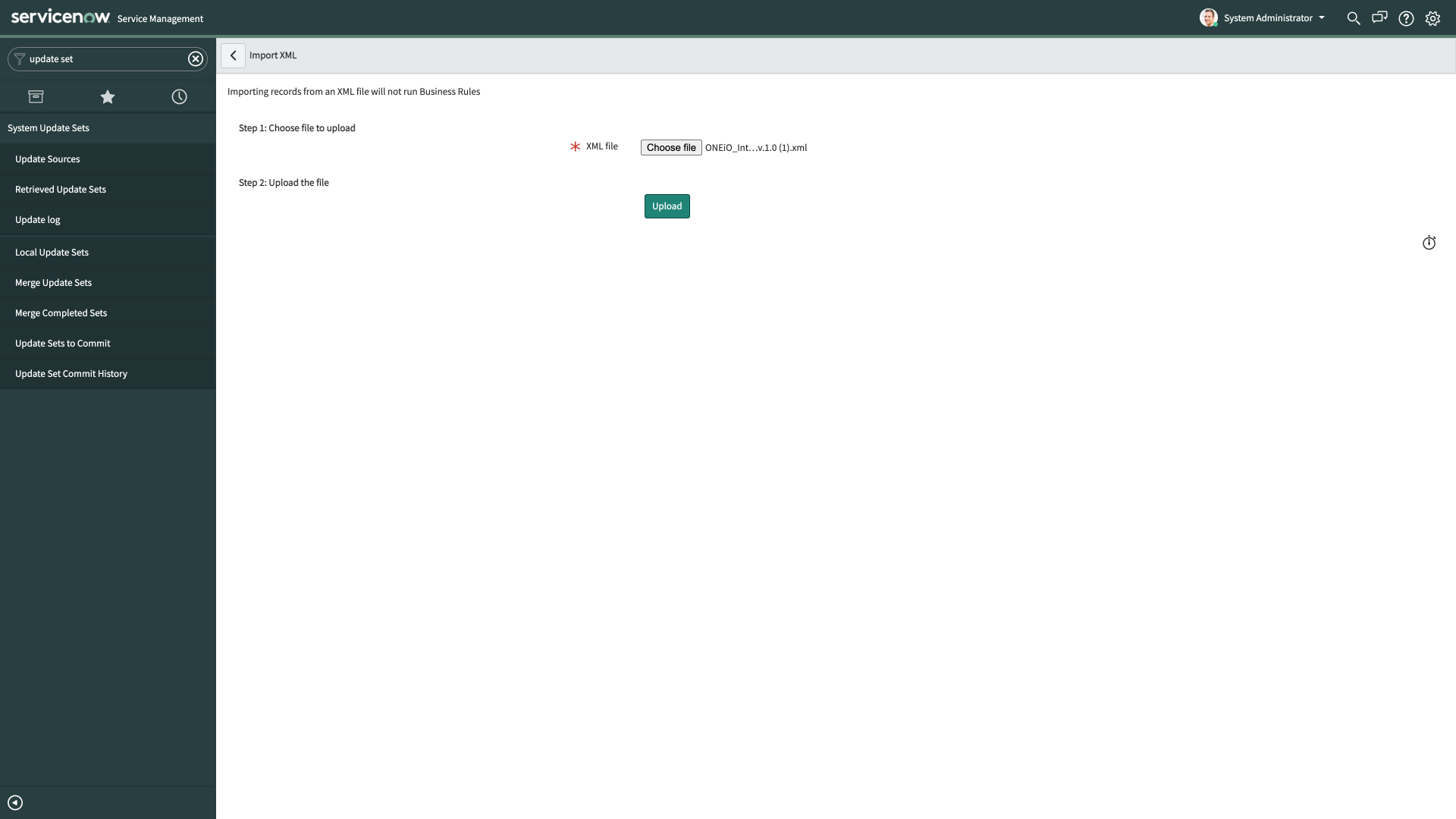 Open the ONEiO Integration Components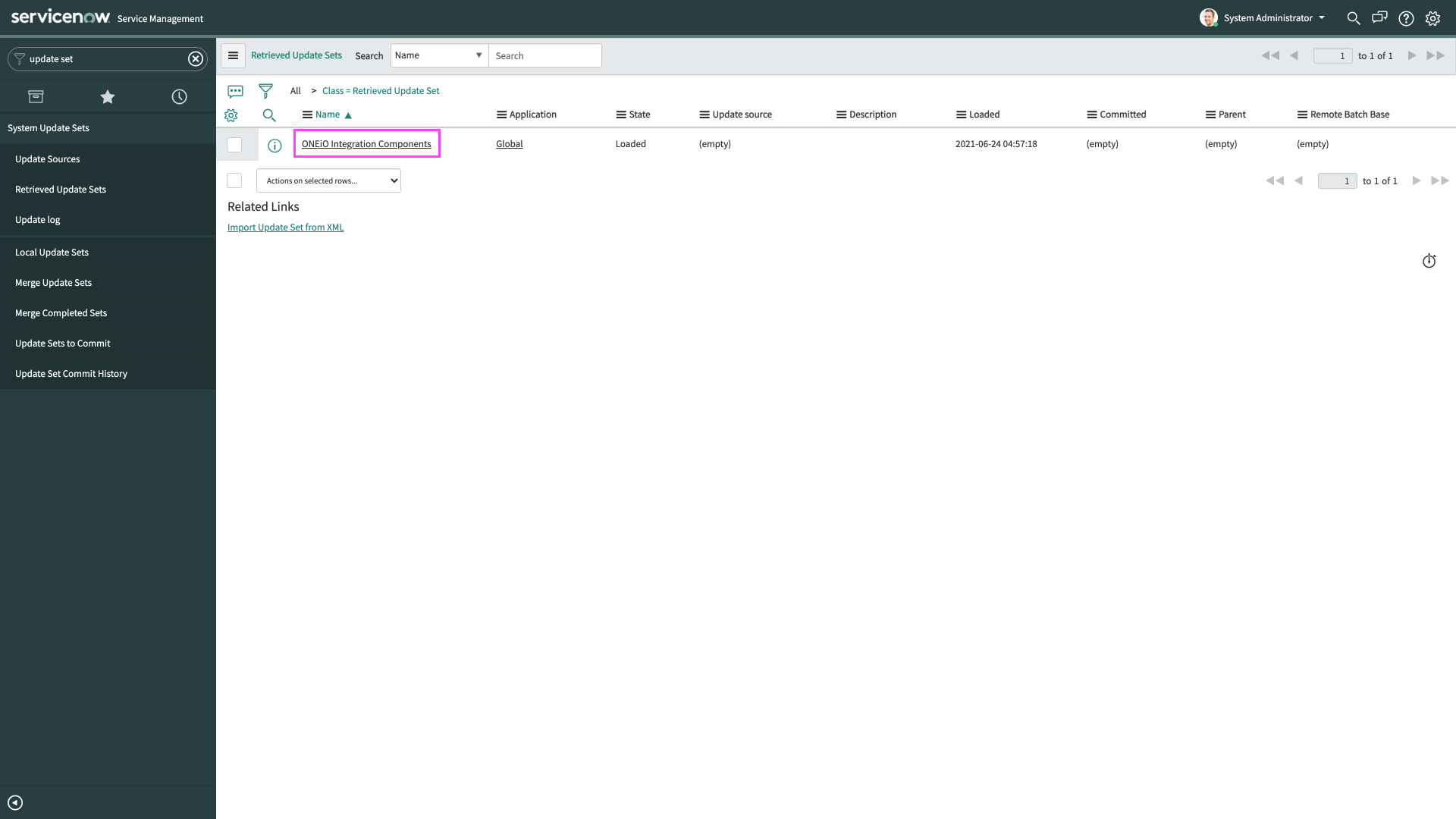 Preview and Commit the Update Set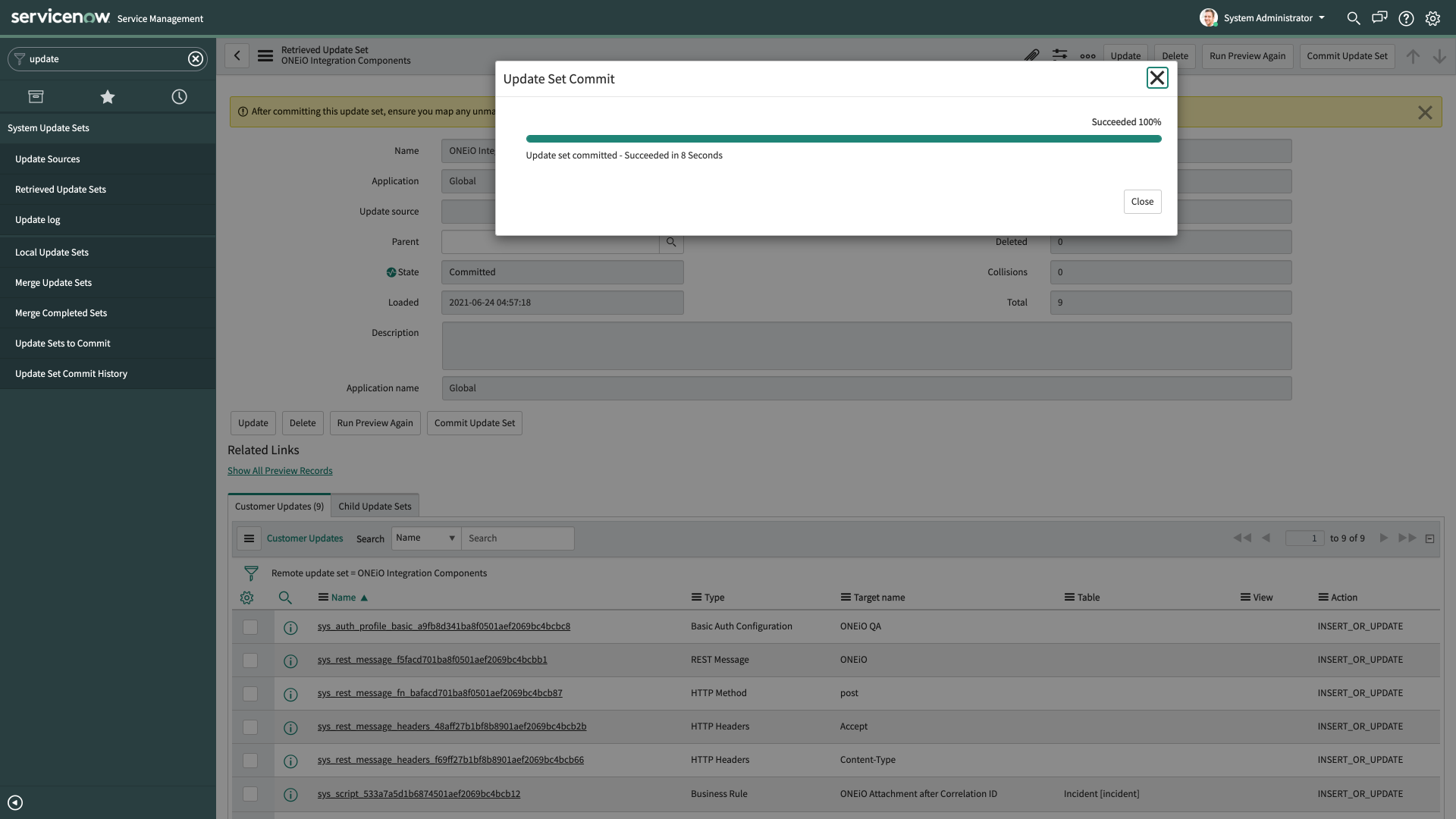 REST Message
For communication from ServiceNow towards ONEiO we use a REST message with ONEiO specific target, HTTP Method & Content-Type. Authentication has to be set on a per endpoint bases.
System Web Services Outbound REST Message ONEiO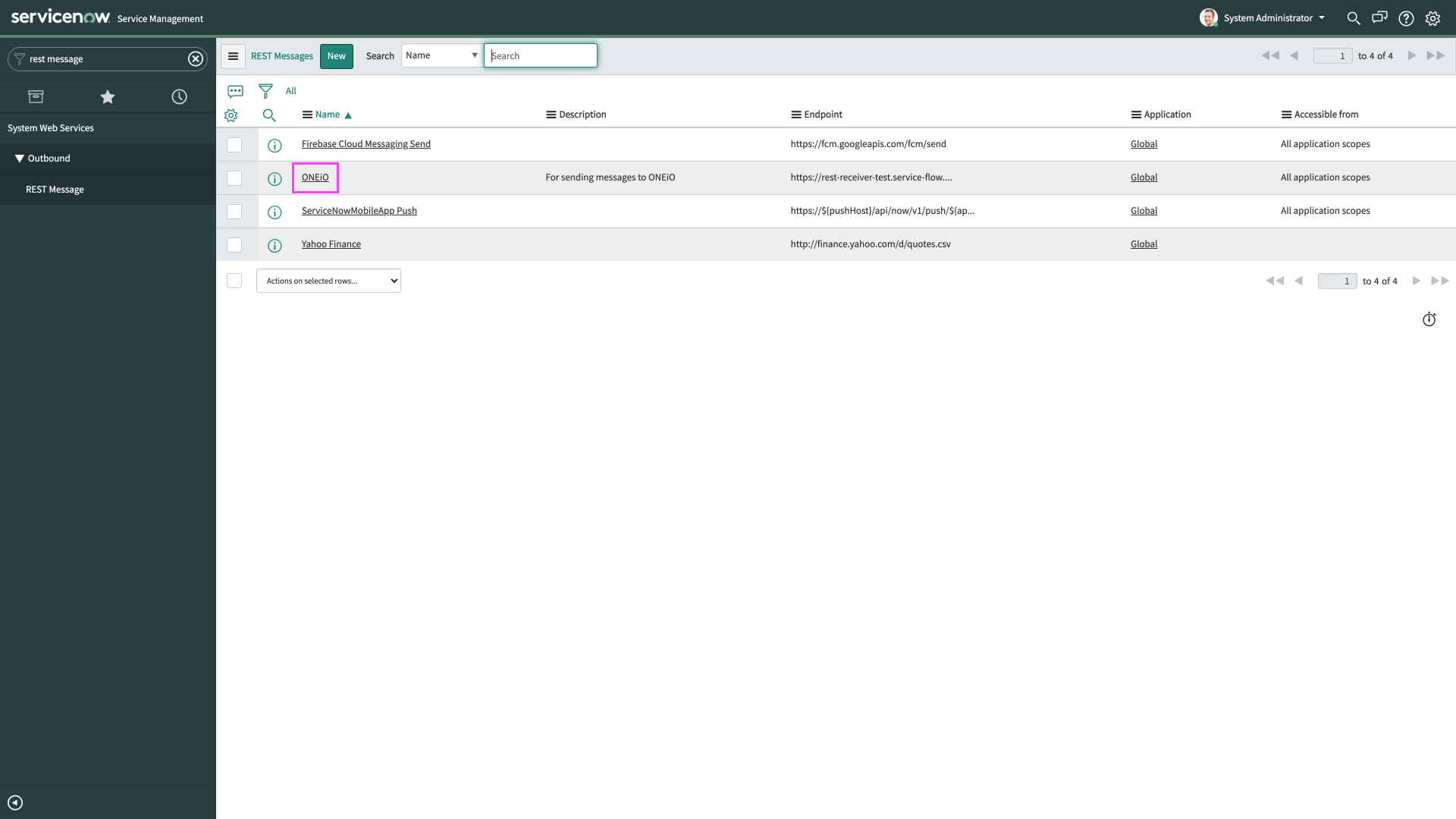 The REST message includes the ONEiO receiver address in the endpoint section. Depending on your ONEiO environment these have to be adjusted.
Endpoint
QA: https://

rest-receiver

-test.service-flow.com/api
Production: https://

rest-receiver

.service-flow.com/api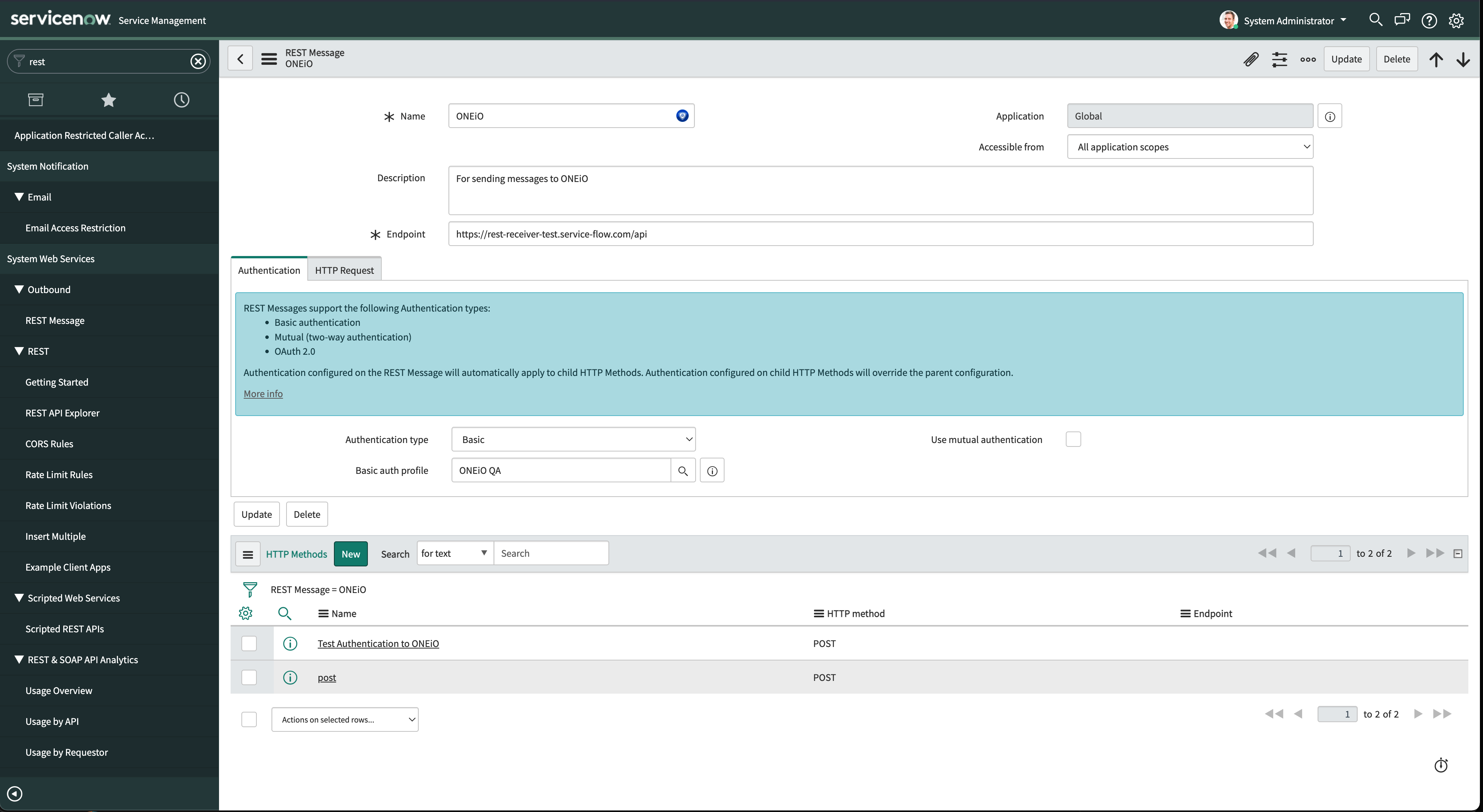 Next up we have to adjust the prefilled Basic Auth Profile.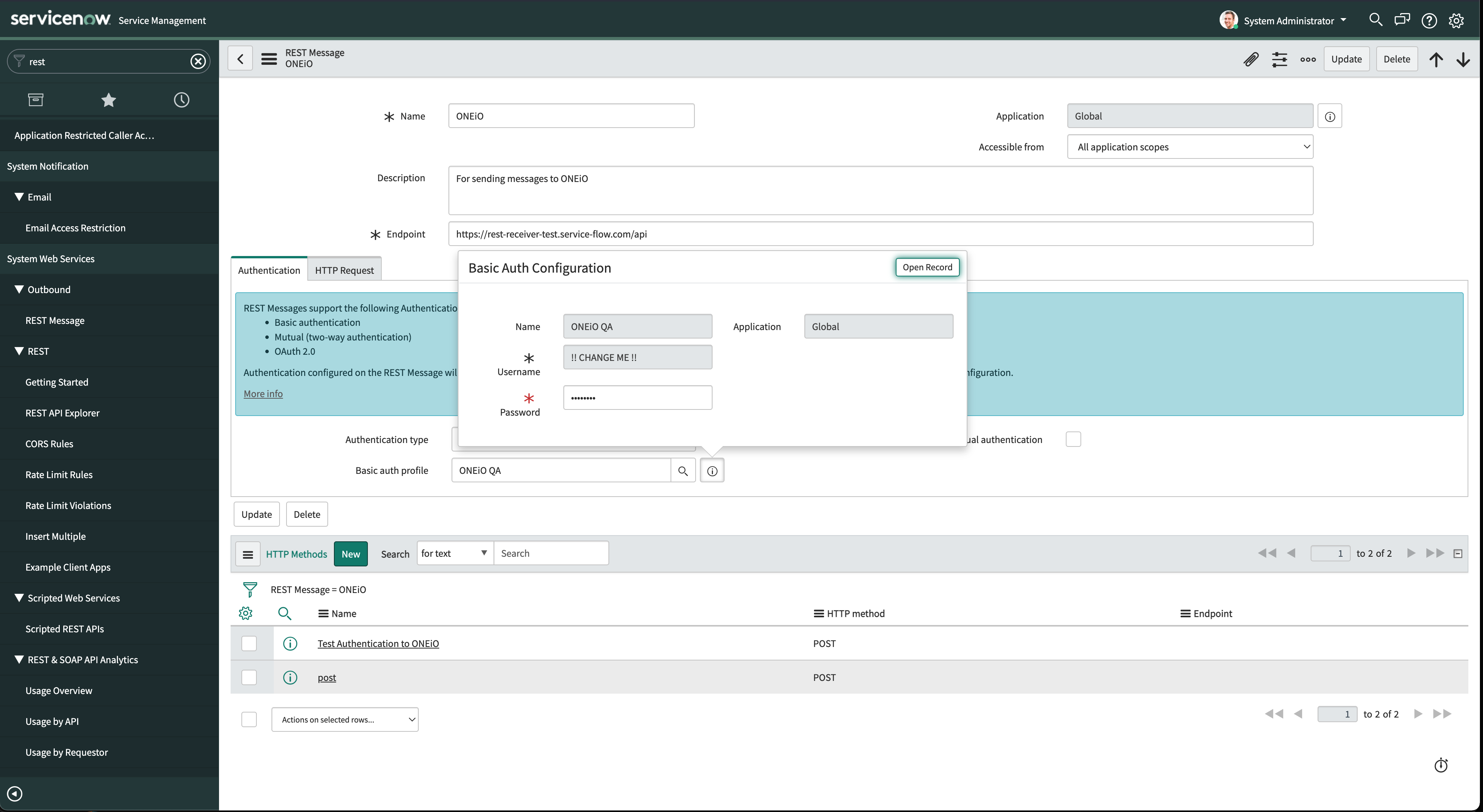 The Username and Password are available from your ServiceNow endpoint UI in ONEiO. The Username is always visible, but you have to enter Edit mode the access the Generate new password button.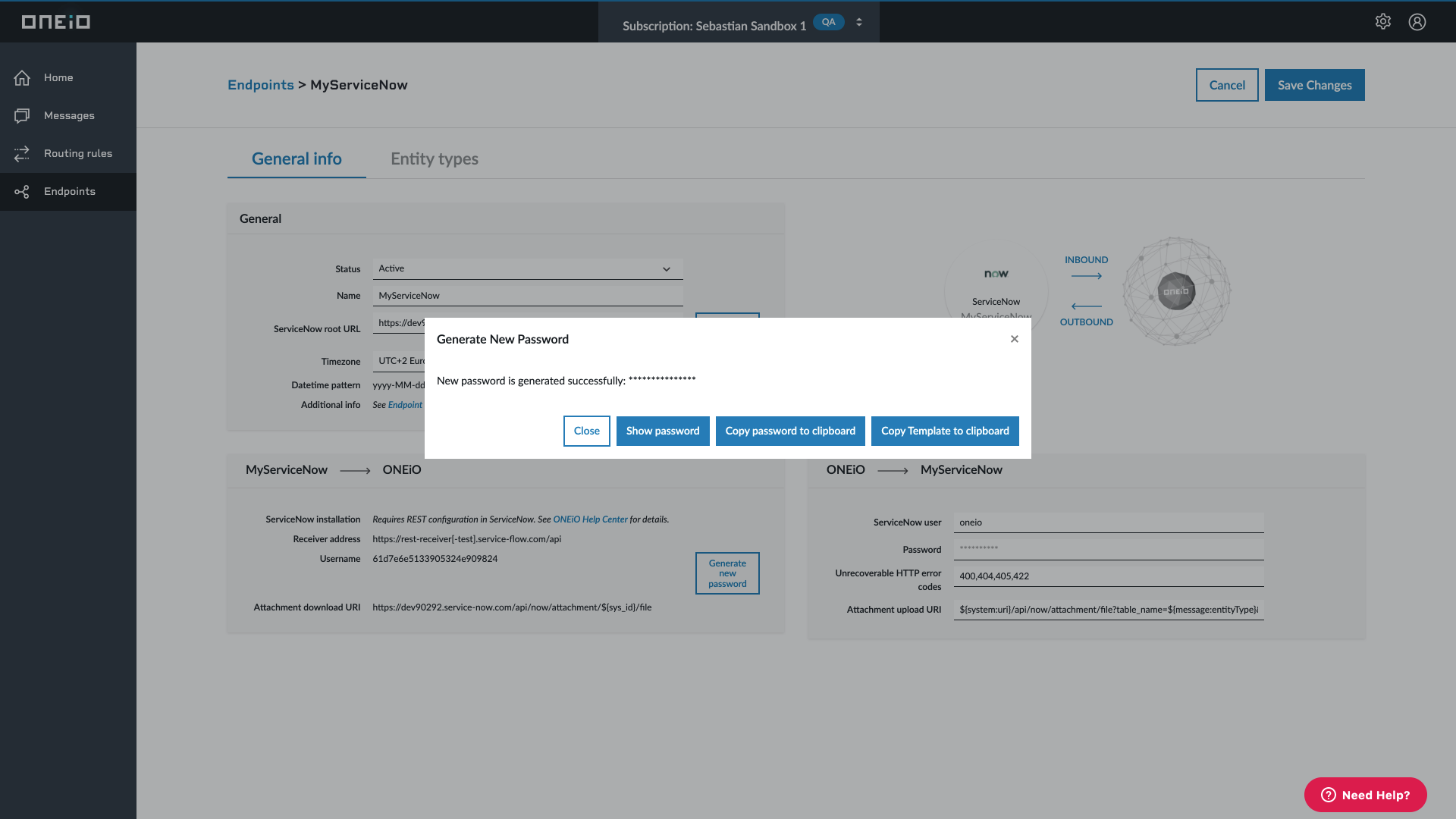 Important
Please save the ServiceNow endpoint in ONEiO after generating a new password
Now that the Authentication is set up, let's test that everything works correctly. For that, we have added a secondary REST message in our Update Set. This REST message is not being populated dynamically with ticket information but has a hardcoded payload just for testing purposes.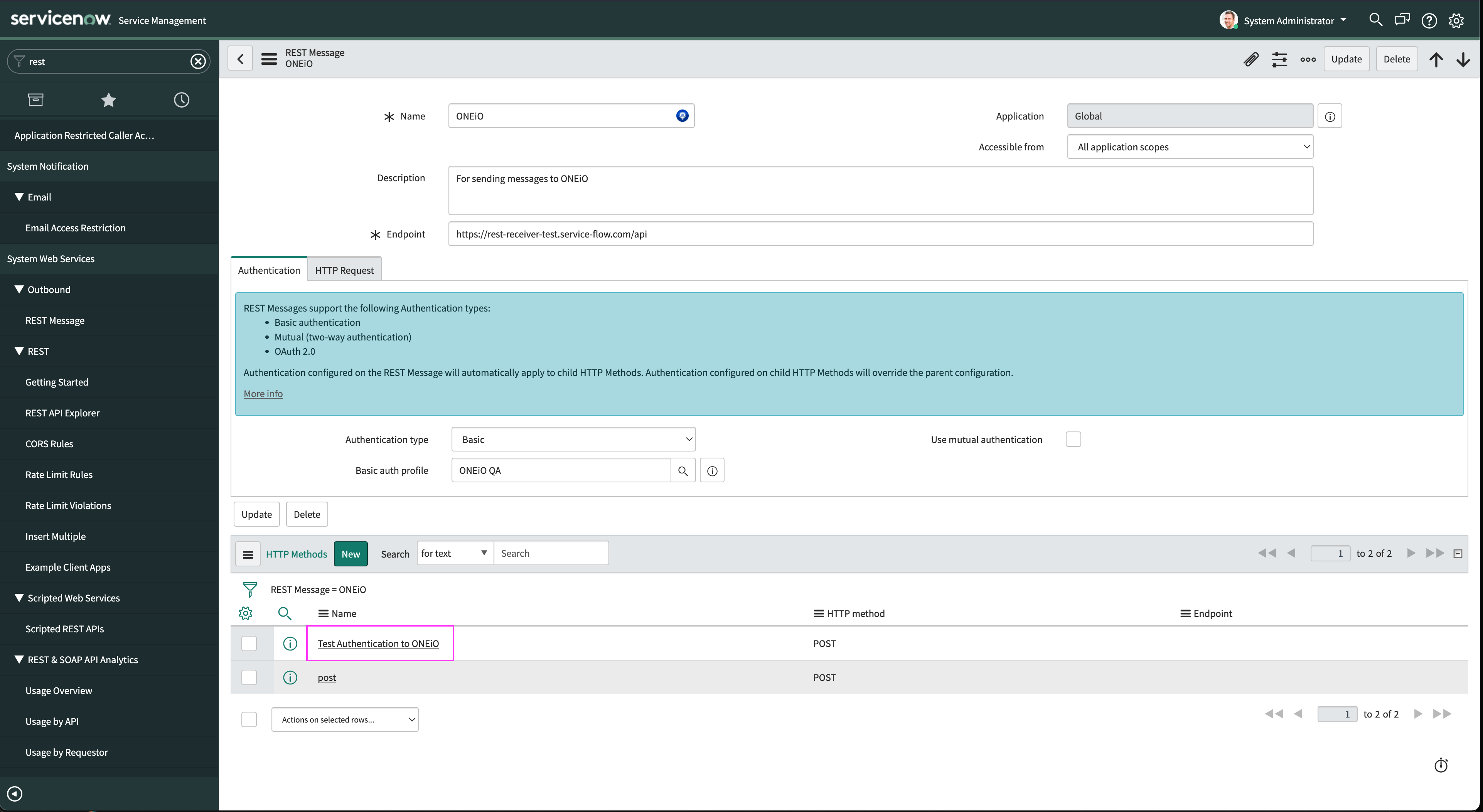 It is preconfigured to inherent the Authentication type from the parent, so you dont have to configure that part.
Choose the Test link on the left side of the screen.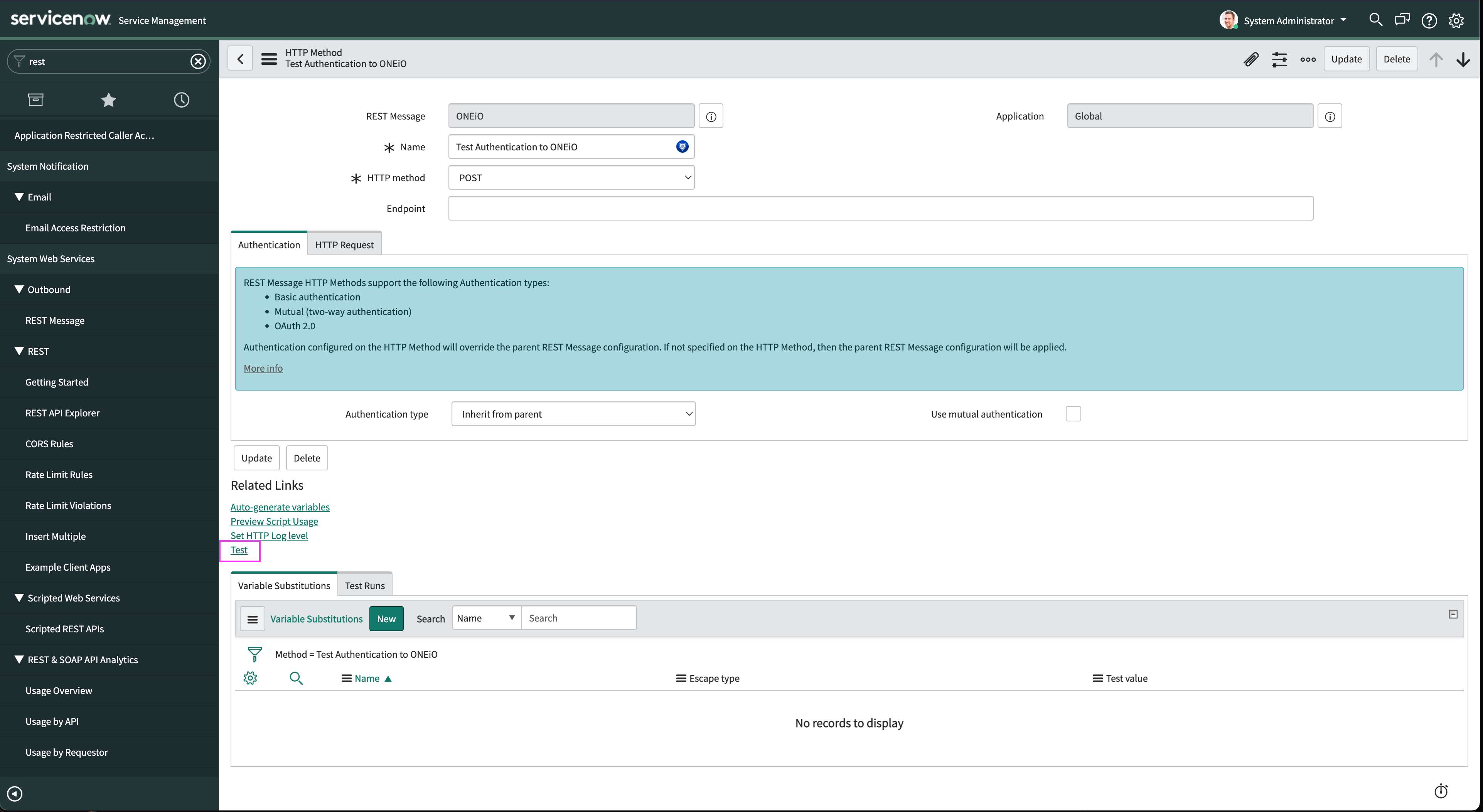 This will send a test payload towards ONEiO and on success return an HTTP 202 and Response ID.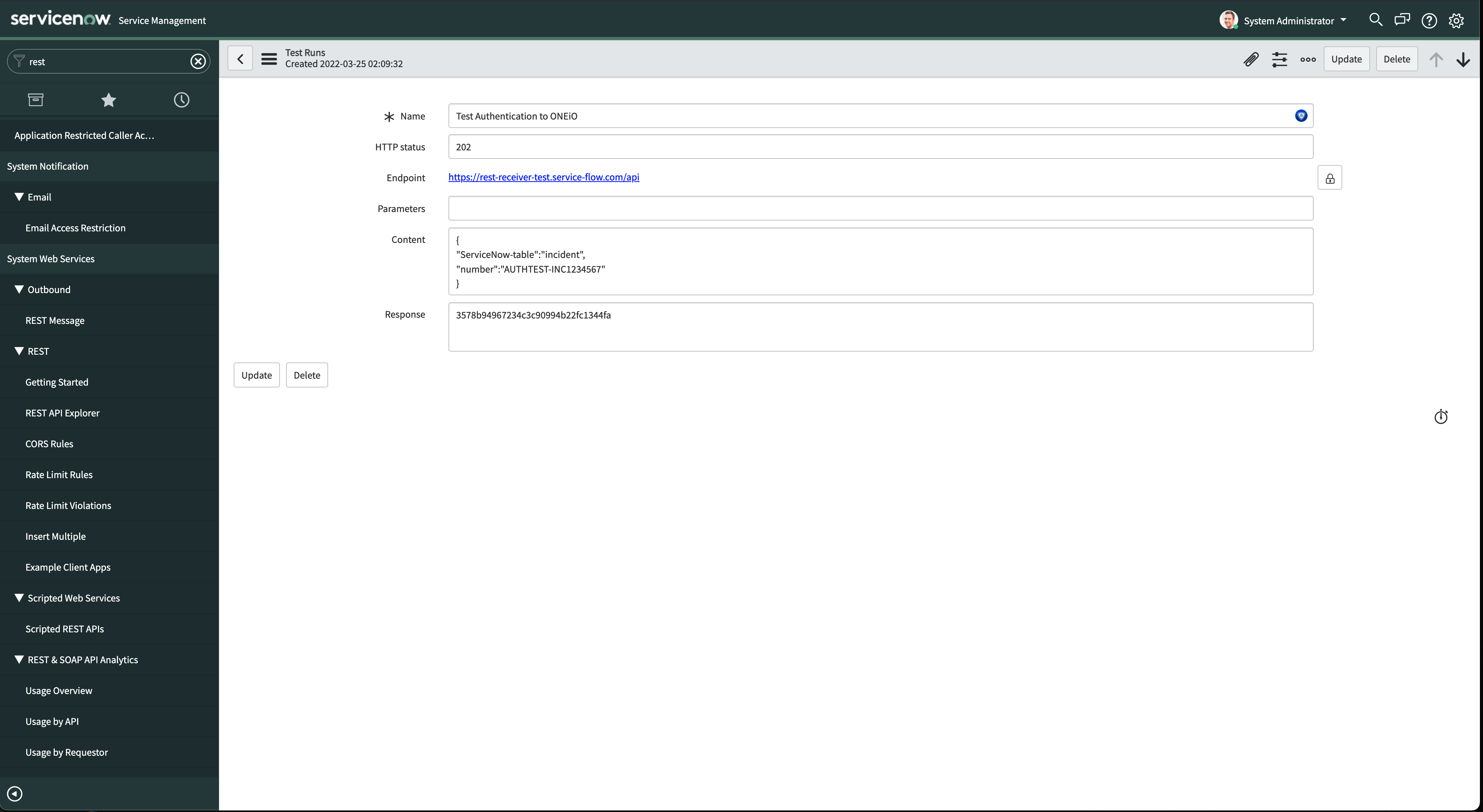 This message will also be visible in the ONEiO Message View.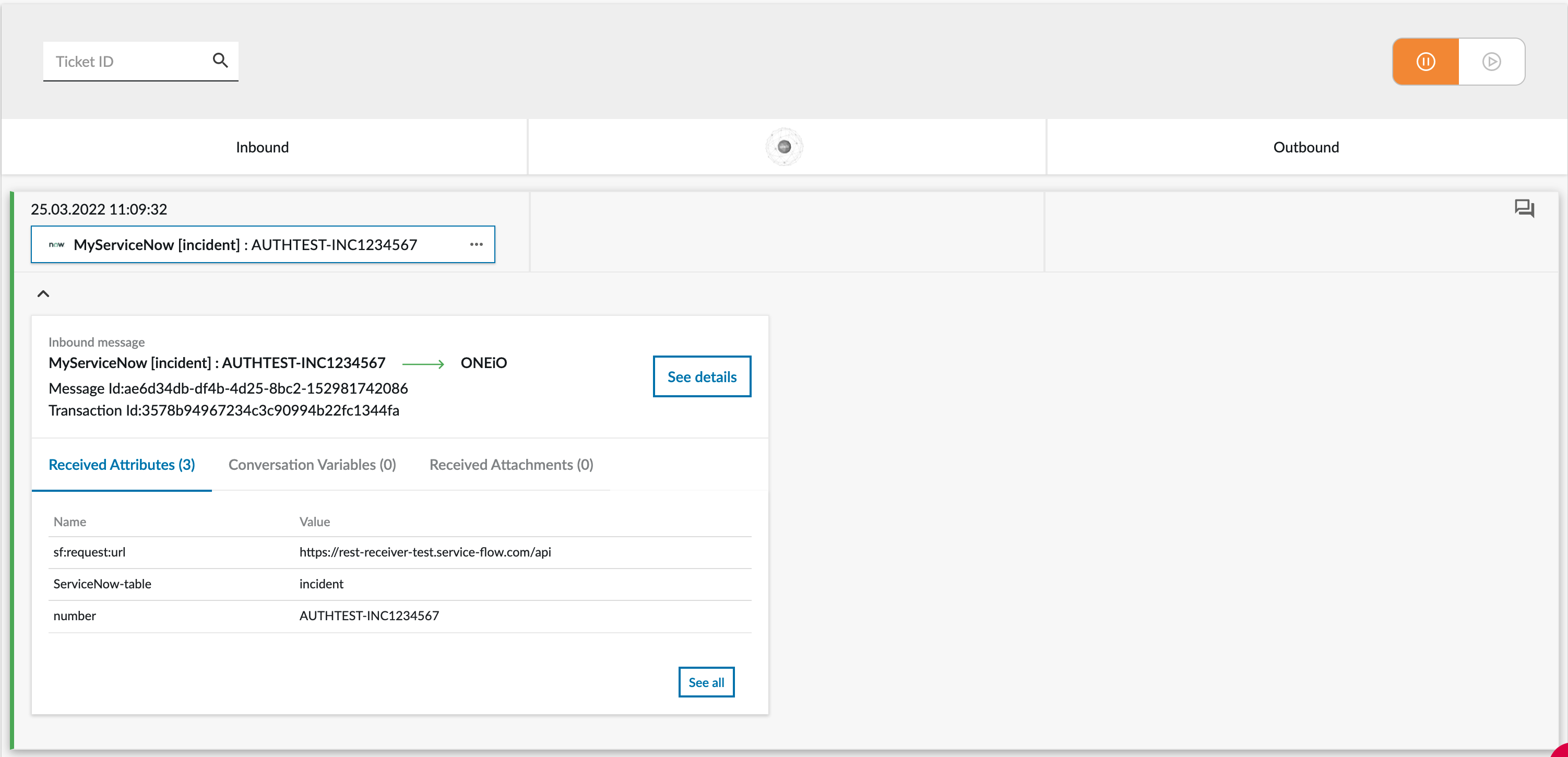 Business Rules
Before creating an Incident, let's check the Business Rules included in our Update Set.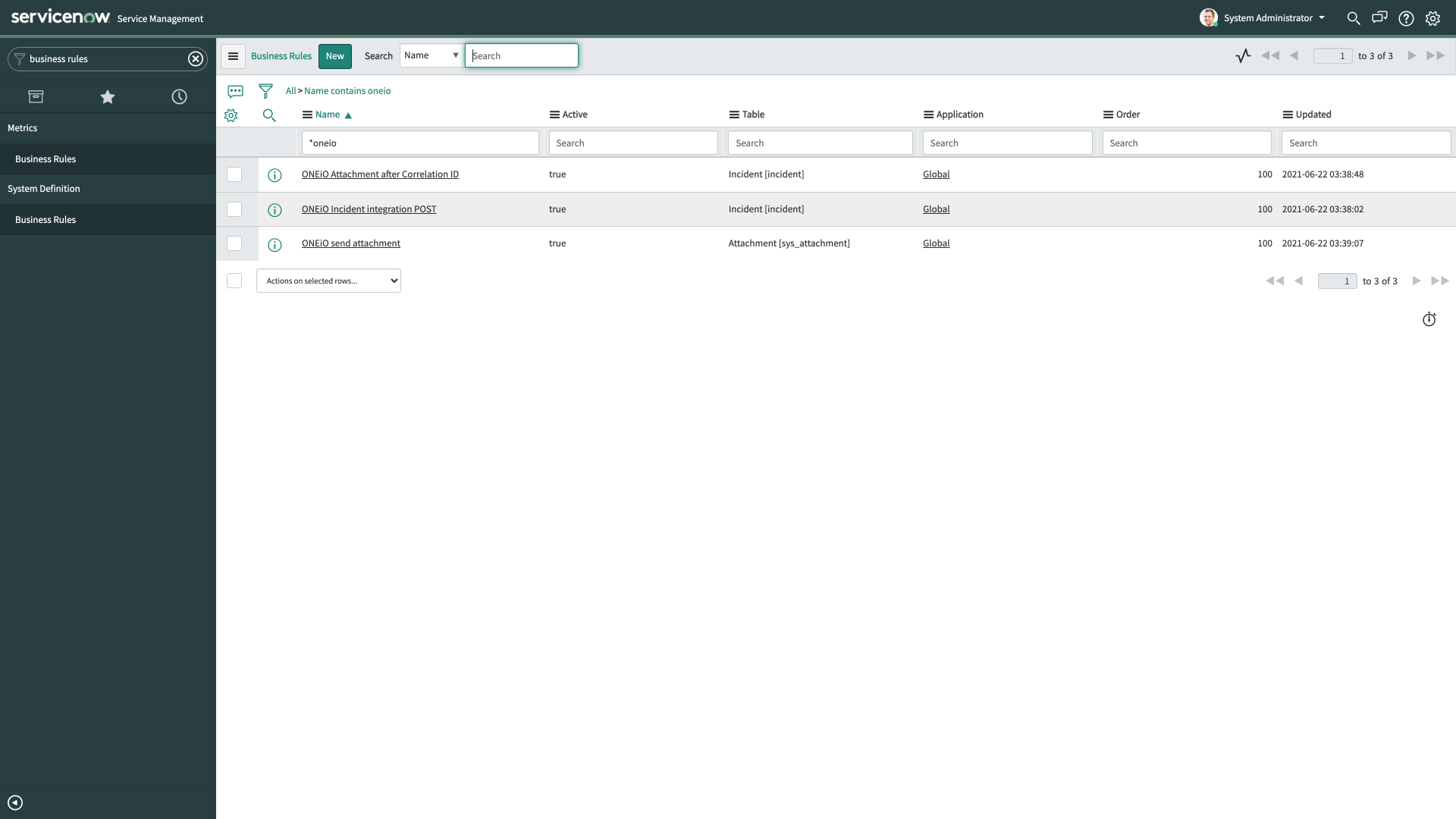 Three Business Rules are included:
ONEiO Incident integration Post for sending from the incident table
ONEiO Attachment after Correlation ID handles attachment sending on incident creation
ONEiO send attachment for sending attachments as an update
If any other processes in ServiceNow should be integrated, cloning and/or extending these rules is all that's needed.
Creating an Incident
Now that the ServiceNow integration is set up we can create our first incident.
Incident Create new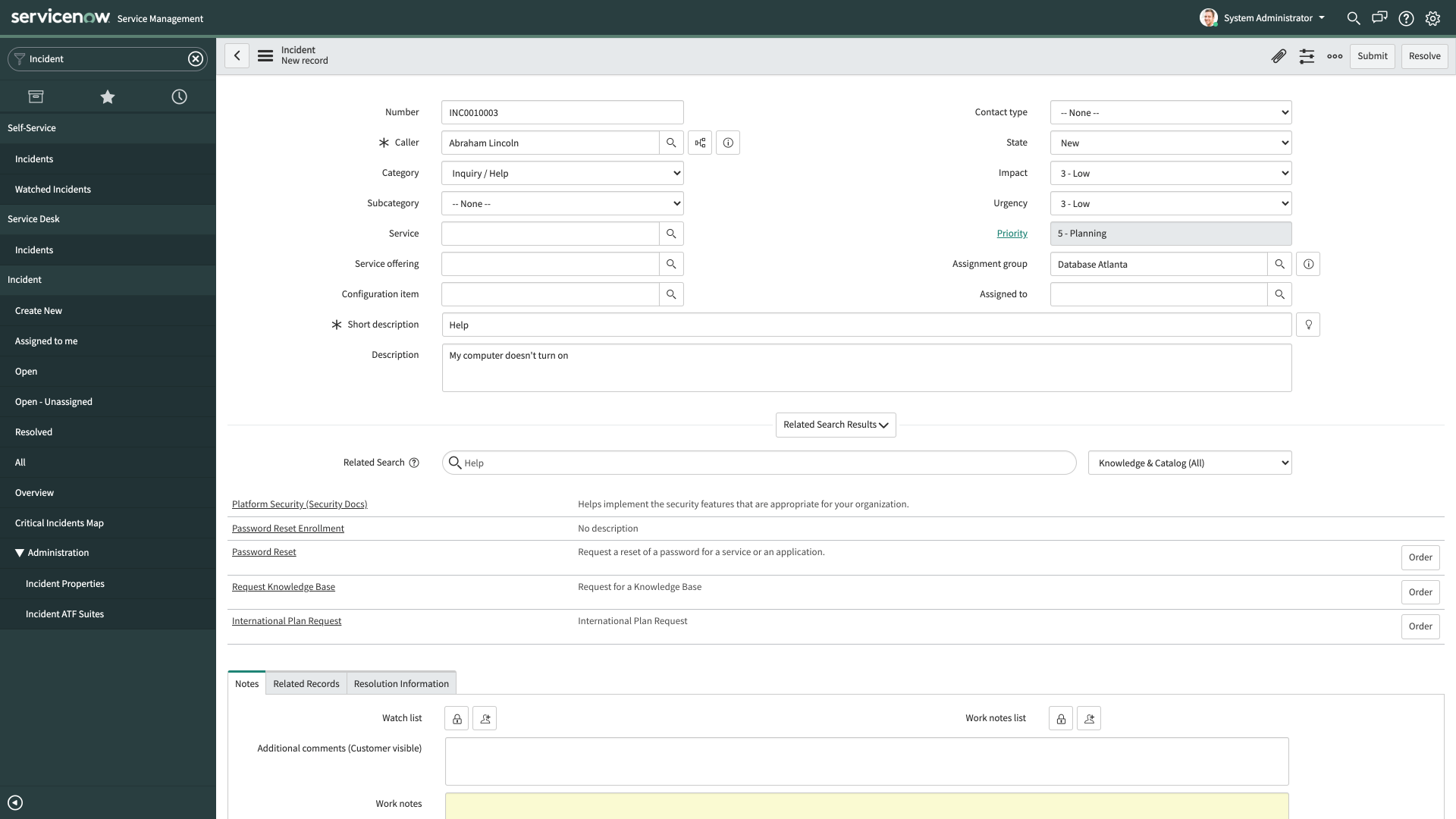 Fill in the required fields such as Caller and Short Description and any other information required for your test scenario. Observe the Assignment group in our example, it use used as a trigger condition in our Business Rule.
The Incident should show up in the ONEiO Message View.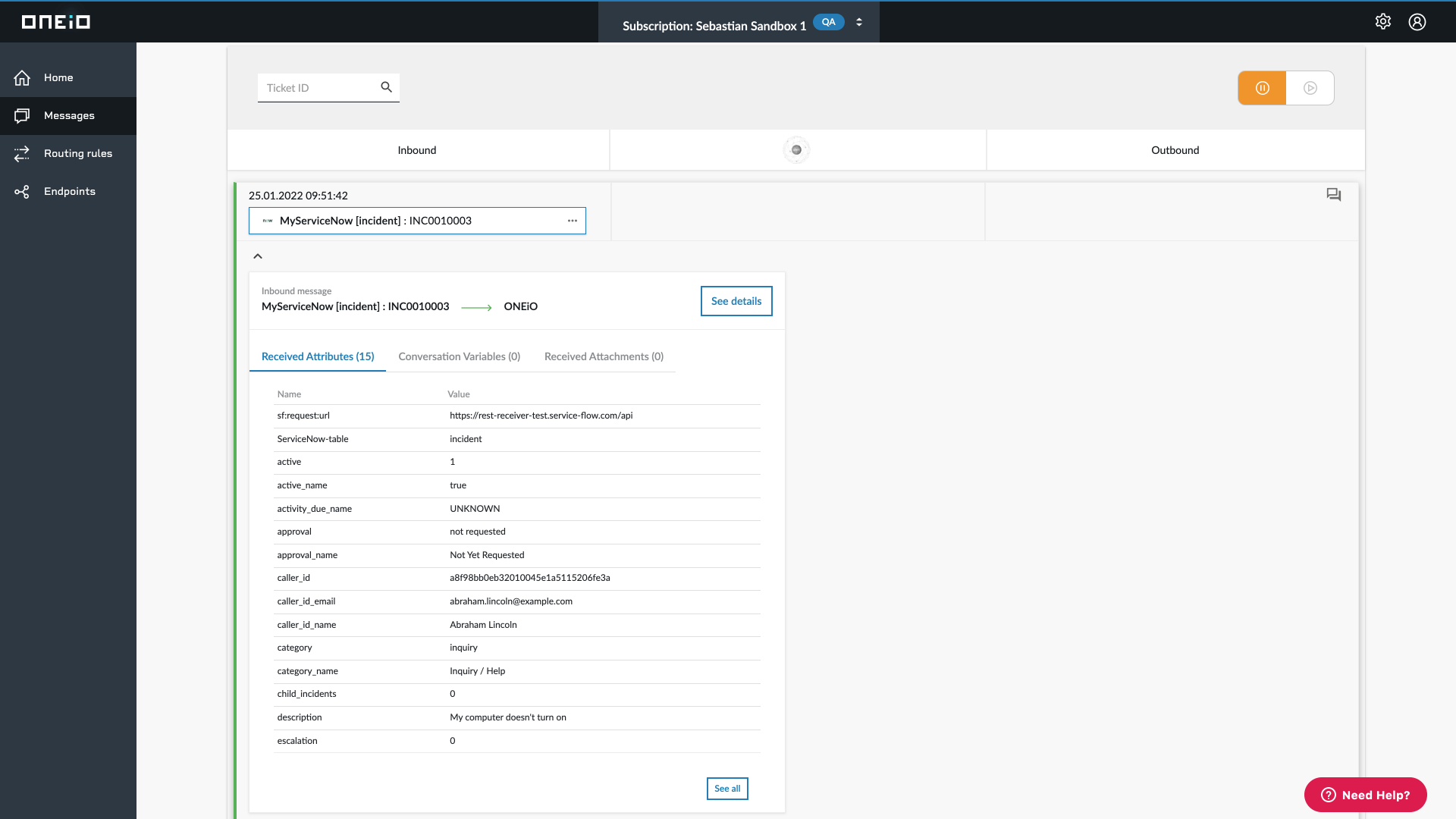 Congratulations, you have successfully integrated your ServiceNow into ONEiO.
If you want to know more about the ServiceNow endpoint in ONEiO, please read this article.